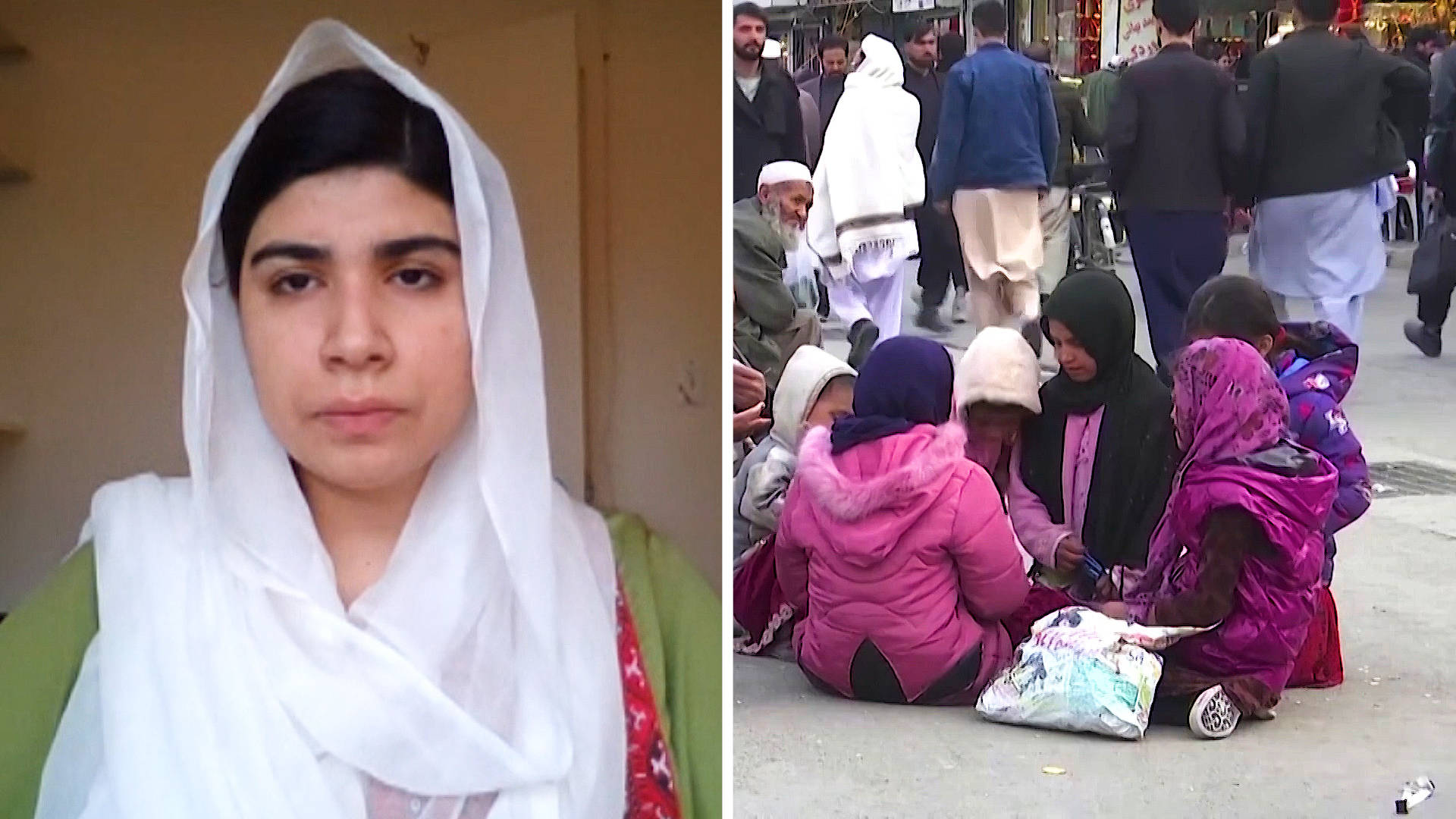 This is a rush transcript. Copy may not be in its final form.
AMY GOODMAN: This is Democracy Now! I'm Amy Goodman, with Nermeen Shaikh, as we look at the growing alarm over the looming humanitarian catastrophe in Afghanistan. Since the Taliban seized power in August, the United States and other donors have cut off financial aid. The United Nations warns nearly 23 million people in Afghanistan — more than half the population — are facing potentially life-threatening food shortages this winter, with nearly 9 million already on the brink of famine.
For more, we're joined by Pashtana Durrani, an activist and executive director of the educational nonprofit LEARN Afghanistan. She's now a visiting fellow at the Women's Center at Wellesley College.
So, if you could start off by talking about the humanitarian crisis that Afghanistan is in the midst of and is facing even further this winter, and what you believe needs to be done and what has caused it?
PASHTANA DURRANI: Thank you, Nermeen, for having me.
First of all, let me start with a very specific example. Last night I was up until 11 a.m. for one reason, because the regional hospital, which is Mirwais Regional Hospital in Kandahar — all the other provinces, their hospitals and clinics have closed down, so the children, for the pediatrics ward, are sent to Mirwais Hospital. And in every bed, I kept on getting pictures for two to three babies, and they all had to be fed. And the government doesn't have the money — the government or the regime, whatever you call it.
And apart from that, there is no international organization right now working on that. And at the same time, each bed has three to two children, and the ward is only able to cater to only 35 children. But we have around 72 children that are there with their parents, who are both starving. And this is just across Kandahar. So, now just imagine this is happening in every province, only for those who are able to go to the hospital, not even those who are in the districts and cannot go to hospital, are malnourished, are starving, not only the children but also the mothers.
NERMEEN SHAIKH: And, Pashtana, explain how widespread that is. You say this is happening in Kandahar. What about in the rest of the country, in rural areas as well as in cities?
PASHTANA DURRANI: Zabul, we got news two weeks ago the public clinic has closed down. There are no funds to run it. Uruzgan, people are leaving, and they are crossing the border and going to Pakistan to get checkups. And there was a Hazara woman who was not able to get that access to healthcare just because she was from Afghanistan, and she had a test kit and no proper documentation within Pakistan. That's the second case that we had heard about. Apart from that, we are seeing that Helmand doesn't have a public healthcare system, either. There are people who are waiting in lines for food, but the food outreach are short. In Daykundi, Bamyan and Ghazni, that I'm getting reports, there are families that are displaced. But the World Food Programme is not reaching out to them. Even if they are trying to reach out to them, there is no food available. There is no — what do we call it? — the proper groceries that were sent out, the aid that was sent out to Afghanistan, it's not reaching the normal people of Afghanistan.
NERMEEN SHAIKH: To whom? Explain, Pashtana. To whom is this aid going? Who's sending the aid? And what are you calling for? Who should international aid agencies, the U.S. government — who should they be working with in Afghanistan now?
PASHTANA DURRANI: The first thing is, when it comes to aid, you have to understand that the aid that goes to Afghanistan, two-thirds of it goes into what the international community calls paying the people the hardship money, because they're working in a conflict zone or in a hardship country like Afghanistan. We need to cut that. Stop doing that to Afghanistan. Nobody needs that. We don't need other people serving in Afghanistan. Let us serve in Afghanistan. We won't charge that much. We won't even charge. There are people who are dedicated to Afghanistan, but they do need protection. That's the first thing that needs to be done.
The second thing is, the international aid organizations, for them, it's just another country. It's just another CEO [inaudible] where they have to take pictures and make their careers out of it. For me, it's my country, and people are starving in it.
Public healthcare is paralyzed. Our education literacy rate is paralyzed right now. Women are not working. Girls are not going to school. Most importantly, people don't have food on the table. They don't have wood to restock for winter. So these are very important, but also they are dangerous times to live in.
And most importantly, where is the humanity in it? The international organizations, they thrive on using the humanity of the people when they are asking for donations. But then, at the same time, two-thirds of it is being used just for the overhead costs, and only peanuts reach to the people of Afghanistan. That's what — one thing needs to be heard and said again and again.
And most importantly, you have to understand that Afghan people are there. There are Afghans within Afghanistan right now. There are people outside of Afghanistan, who didn't work with the government and who are willing to work for Afghanistan, and who can make sure that to install a new financial system, not only in CDCs but also in apps. We could be using that. Apart from that, there could be a task force that could be used, a 30 to 40% task force, that is only responding to the development and the humanitarian crisis right now. But nobody is doing that. The international community is going in, but with no homework done. How do you sit with Taliban, who don't have any skills in diplomacy or international development? How do you talk to them?
NERMEEN SHAIKH: And, Pashtana, finally, before we end, there have been reports of widespread extrajudicial killings across the country, including hangings, beheadings and public displays of corpses. Could you explain what you know of that, and the fact that your own cousin was murdered by the Taliban?
PASHTANA DURRANI: He is one of the relatives in Helmand. His name is Nawid, and he has been murdered a few weeks ago for just a Facebook post. And most importantly, this is not the — this is the first one where the media got its attention. There are extrajudicial killings happening all over Afghanistan right now, and nobody is talking about it. Nobody is even reporting it. And most importantly, when it comes to that, nobody even wants to go there, because right now it's not important. Right now people are starving, and the international community has to exploit that.
AMY GOODMAN: Finally, Pashtana, the idea that the U.S. spent millions of dollars on — billions on this war, now the U.S. pulls out and cuts off money to Afghanistan, when it's not at war with Afghanistan. Your final comment?
PASHTANA DURRANI: Then what made them at war in the first place? I mean, like, if they — the people they were at war with, they are still ruling right now. How come they forgive them in 20 years? If that's the scale of how you forgive people, then they might be willing to forgive Daesh in the 20 years. That's the first thing that you need to understand. And how did they justify for the past 20 years that taking taxpayers' money to pay for the school and hospitals in Afghanistan, and now somehow that is not relative, now somehow that is not important? They went in 2001 to justify women's rights and used that to get into Afghanistan and said that women were being abused. Right now women are not being abused? Women are not starving? Children are not starving? How come they are justifying it right now? How come they are so OK with it right now, now that the same people are ruling the country?
AMY GOODMAN: Pashtana Durrani, we want to thank you for being with us, activist and executive director of the educational nonprofit LEARN Afghanistan, visiting fellow at the Women's Center at Wellesley College in Massachusetts.
That does it for our show. A very happy birthday to Renée Feltz. Democracy Now! is produced with Renée Feltz, Mike Burke, Deena Guzder, Messiah Rhodes, María Taracena, Tami Woronoff. I'm Amy Goodman, with Nermeen Shaikh.